Advertise
Advertise on Rossendale Radio
CLICK HERE TO SEE WHO YOU COULD BE JOINING AS OUR SPONSORS
If you would like to advertise on Rossendale Radio and website then get in touch.
We have an active social media account with people interacting with us on Facebook and Twitter.
We talk directly to the Rossendale Valley area with all our programming being created and broadcast locally in Rawtenstall with local talent and presenters.
We have listeners close to your business and you could reach them for a lot less than you think.
Our airtime and sponsorship packages are designed for businesses of all sizes, and we can help new businesses on their way to success.
What does it cost to advertise with us?
---
Website Banner Advertising from only £10 per week

A business banner like the one at the top of the website starts at only £10 per week (plus VAT). This can be taken up without any on-air advertising and can be included with any advertising packages along with an on-air advertising and place in our business directory.
All banner advertising via the website is tracked and reports sent to you as a client with the weekly/monthly numbers on views and clicks to your website/Facebook Page so you can see how it's performing.
On-Air Advertising from as little as £99 + VAT per month
---
Advertising on your local Radio Station is more affordable than you think.
With costs starting at only £99.00 per month (+ VAT) plus production costs to make your advert. Terms and conditions apply.
We believe in affordable, value for money campaigns for our clients to help make our radio station sustainable.
We also offer individual show and feature sponsorship, so if you want to be the brand behind the weather or sponsor an Events Guide or the travel news, there are many different opportunities across the radio station to suit your needs and budgets.
If you want your business to reach its target audience across The Valley, we guarantee to make your vision fit – we will find the right deal for you at the right price.
If you would like to know more then please send us a message and contact details to sales@rossendaleradio.com and we will call you back TODAY!
What's included with on-air advertising?
30 second commercial
Minimum of 3 plays per day every day
Guaranteed 1 play during either Breakfast or Drivetime on any one chosen day
Remaining plays shared equally throughout the rest of the day
Discounts available for long term
Featured in our Advertiser's Directory on the Rossendale Radio website.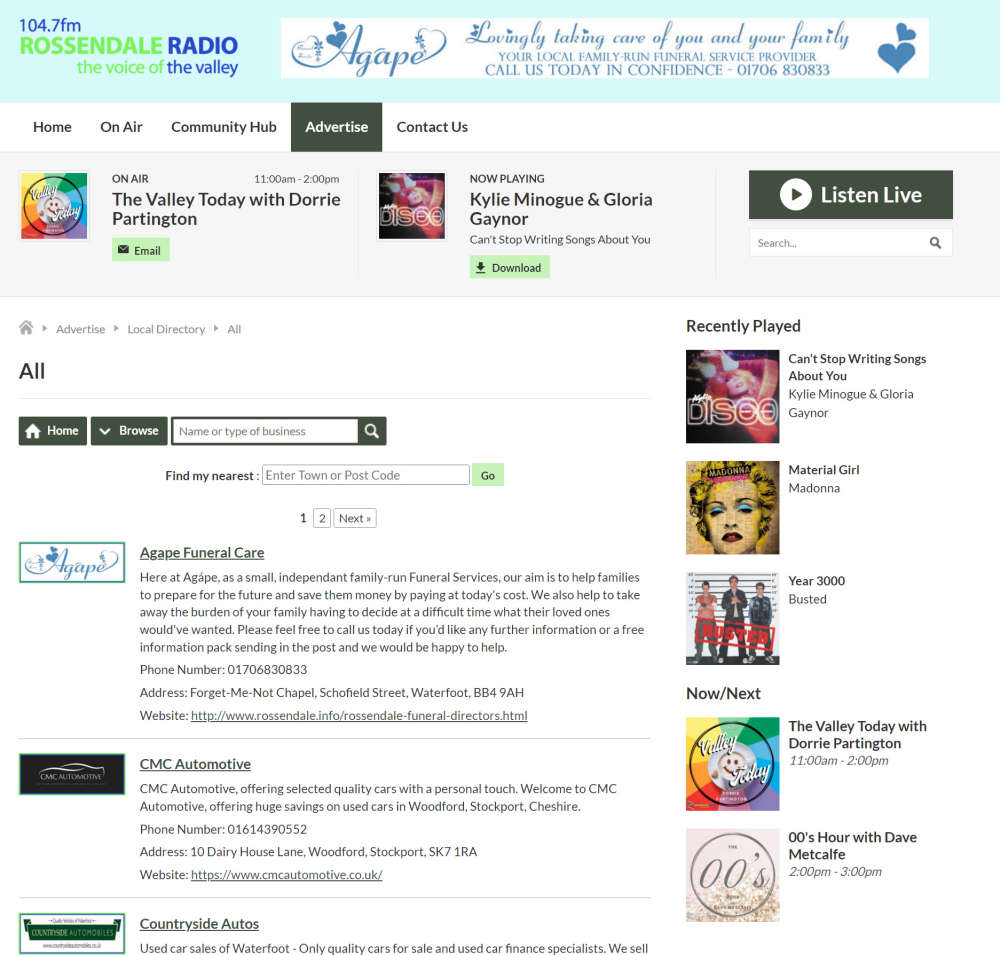 For more details on how Rossendale Radio can help your business contact us now.
Email: sales@rossendaleradio.com
Phone: our Sales Team on 01706 530940
CONTACT US ABOUT ADVERTISING